If you've ever tried to lose weight, then you know that the struggle, as they say, is real. Between work and the kids, it's hard to find even 15 minutes to get to the gym, let alone two hours! Before you know it, winter's gone and summer is just around the corner and your waistline has gotten out of control. We've all been there, and the struggle is compounded for those of us who are on the shorter side. Ten pounds on a five-foot-two person is way different than ten pounds on a six-foot-eight person.
The same rings true for little Lu-Seal the chihuahua. She's so tiny that when her weight got out of hand, it affected every single aspect of her life. By the time she was rescued, she was too overweight to even walk. She weighed a staggering 16 pounds when she really should have weighed about six or less. Tragically, she was abandoned when she needed help most.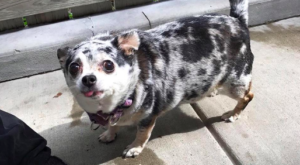 Thankfully, her adoptive mom Julia fell in love right away and took her to the vet for a checkup. Doctors told her that Lu had to lose half her body weight if she was going to live much longer. Julia didn't need to hear anything else! She knew that she had to set Lu on a better path.
Vets helped Julia and her partner come up with a strict 250-calorie per day diet for their new little nugget. They also were told to exercise Lu as much as she could safely tolerate. When they first started, they could barely get two houses away from their own before she had to sit down. But every day, they urged her to go a little farther. After a while, she was becoming a regular athlete!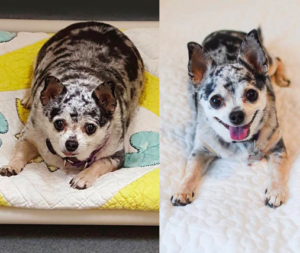 She hit every milestone, like her first set of stairs, and the pounds fell off. After all was said and done, the former couch potato lost eight pounds, or 50 percent of her body weight!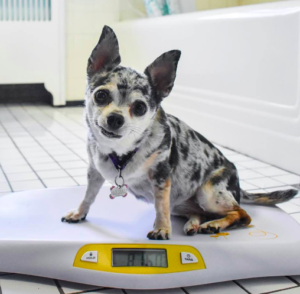 Images via Facebook
To celebrate, Julia and her friends threw a precious party for the fit pooch. Learn more about Lu-Seal below and see the cutie in action in the video down below.
Chihuahua Celebrates Her Extreme Weight Loss With A Huge Party

This Chihuahua weighed 16 pounds when she was adopted — she needed to lose HALF her body weight to get healthy. After months of working out, Lu-Seal is all the way down to her goal weight and her mom's throwing her a huge party! Today on Party Animals, she's celebrating her new bod with all her friends, a much-deserved cake and a weight check station for other pets to see if they need to get in shape too 👏👏👏💞

Posted by Party Animals on Saturday, October 28, 2017