The animal shelter The North Fork Animal Welfare League, Inc/Southhold Animal Shelter took to the power of the Internet recently to plea to find a forever home for the sweet pit bull Chester. The animal shelter posted a photo to Facebook explaining, "Poor Chester is still waiting 5 years being overlooked!! He is a sweet guy who loves to lay on the couch. He likes most other dogs" In the photo, Chester is holding a sign, which says, "Why doesn't anybody want me? I've been waiting 5 years. Everyone at the shelter tells me what a good boy I am. So why has no one adopted me? I promise to be good and love my new family. Please maybe you are my new family… I sit and wait for you to come.  -Chester."
Chester the Pit Bull has been waiting 5 years now to be adopted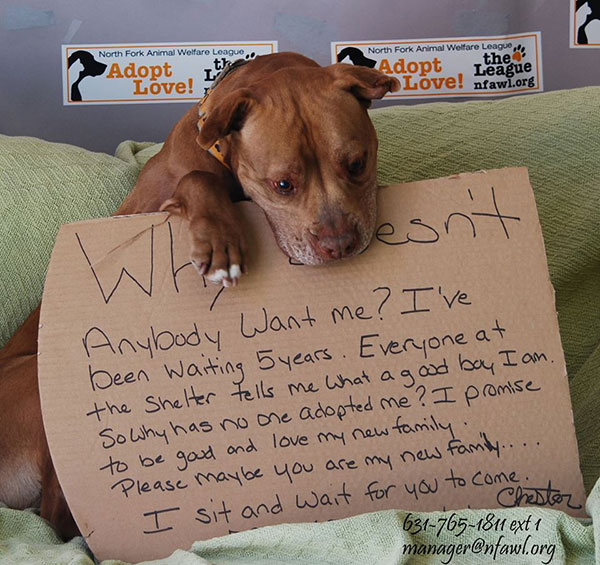 The main problem holding Chester back from being adopted: He's a Pit Bull mix.
Pit bulls tend to not get adopted as quickly because of some misconceptions surrounding the breed. These misconceptions stem from humans mistreating the dogs and breeding them in horrible conditions to be fighting dogs. But in reality, they are one of the most loyal, loving dog breeds around. Pit Bulls are also brought to animal shelters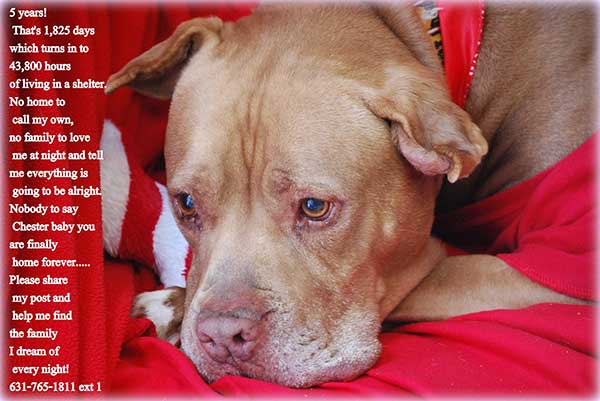 But, Chester now has his forever family!
Thanks to the persistence of his animal shelter and the power of the Internet, Chester the Pit Bull was able to find his new, loving family: the Dor Family! They came and picked Chester up today, and he is happy as can be! The Dor's have taken him on his first trip to PetCo and got him a brand new bed and crate and plenty of toys. He even has has very own Facebook page now, called Chester Waiting for five years, where you can follow how he's doing in his new hope.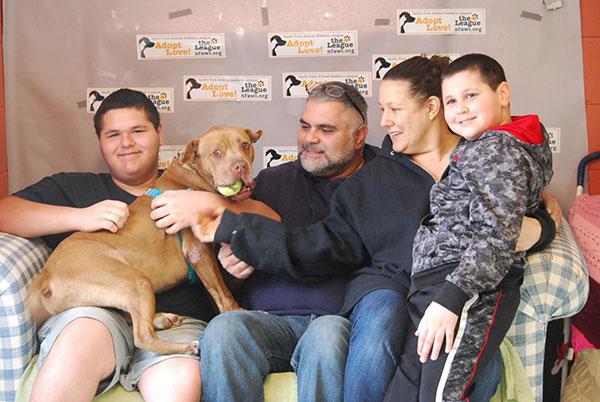 Now, Chester's friend Fiona the Pit Bull needs your help!
With how helpful getting Chester's photo to go viral has been, the North Fork Animal Welfare League/Southold Animal Shelter is hoping they can use the same method to help another pit bull find her forever home: Fiona, who has been at the shelter for 2 years. The post comes as a heartfelt note from Chester, which you can read below:
Please SHARE this post and Fiona's photo to help spread Chester's amazing story and help Fiona find her forever home, too!