Stereotypes are not uncommon in high school. In fact, if you think about it, high school is very much about being part of different groups defined by specific activities, interests, or characteristics, for better or worse. Unfortunately, this environment can also be conducive to bullying. Special needs kids, in particular, can often become the target of harassment.
Boys who play football are often known for being tough and cool, but not as often for being empathetic guardian angels. What this particular football team did for one of their special needs classmates, Zachary, changed his life forever. Zachary is a child living with Autism, so interacting with his classmates hasn't always been the easiest task, but thankfully he has some great classmates that have helped him in his journey. Read the whole story below.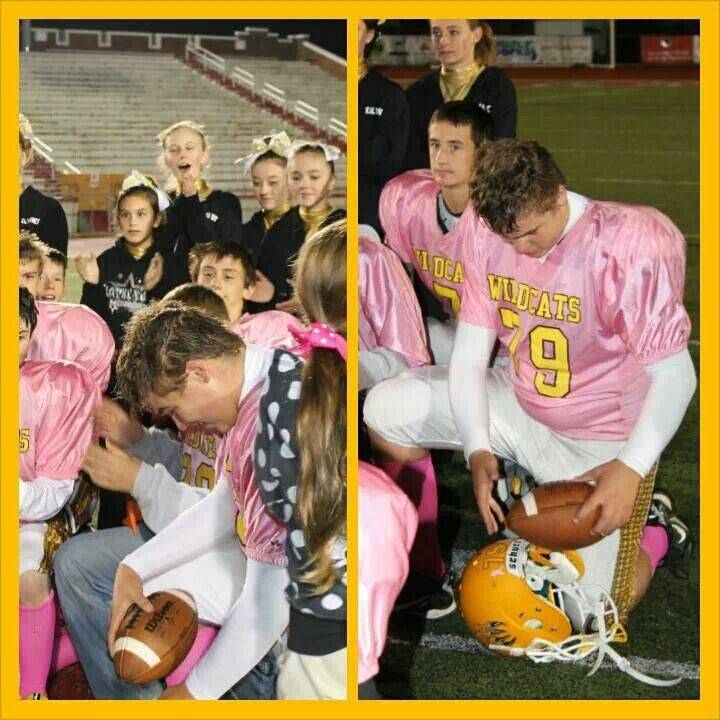 His mother posted this Facebook message in recognition of the beautiful act:
In light of all the bad news circulating around about teachers abusing special needs kids and teens and bullying going around in schools, I wanted to share my story of hope and inclusion. My 13 year old Autistic son Zachary has played football since he was 8 with almost the same group of boys, he has never been a great player but has always made up for it in excitement, never give up attitude, and determination to do everything all the other boys are doing. On Thursday of last week (10/17) it was their last game of the season. In the fourth quarter, they put Zachary in. I sat watching as usual when I saw him walk to a different position … not thinking anything of it, I continued watching. Amazement and shock set in as I saw him handed the ball and then he began running for a touchdown with his teammates closely guarding him. He scored a touchdown, his first ever, and I could see the huge smile on his face even in the stands. I was in tears as I watched the whole team surround him and celebrate with him. They presented him with the game ball afterwards, he accepted and just hung his head in amazement, still grinning ear to ear. They had arranged with the opposing team to give my son what to them seemed like five minutes of glory and a chance he might never have had. To my son it was a shining moment he is still talking about. It has been three days and he is still sleeping with his game ball tucked in beside him and carrying it with him everywhere. The Hamilton Wildcats teachers, players, coaches and parents are number one in my book for their outstanding inclusion, acceptance and, well, for giving my son one the best memories if not the best memory of his young life. I just wanted to share his story as I was told by many a doctor he would never be able to play organized sports among other things, and hopefully give some hope to others .. thank you for taking the time to read this. One proud momma, Tonya Moyer
We need more people like the members of this football team. Special needs kids often are the recipients of harassment and abuse, and together, we can change that. Bullying behavior isn't cool, but being compassionate sure is.